At the end of 2012, ST launched the high-performance STM32F429/39 series of chips. Compared with STM32F407, the new functions of the STM32F429/39 series include: SDRAM controller, TFTLCD controller and ST Chrome-ART Accelerator to accelerate graphics processing performance, and Increasing the main frequency to 180Mhz greatly improves the performance of the graphical interface.
STM32F429 Pin Configuration
The pin configurations of STM32F429 include: LQFP100, LQFP144, LQFP176, LQFP208.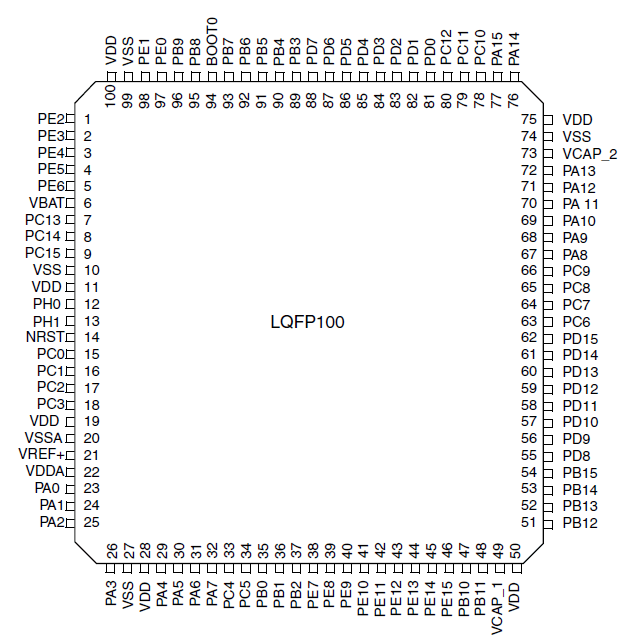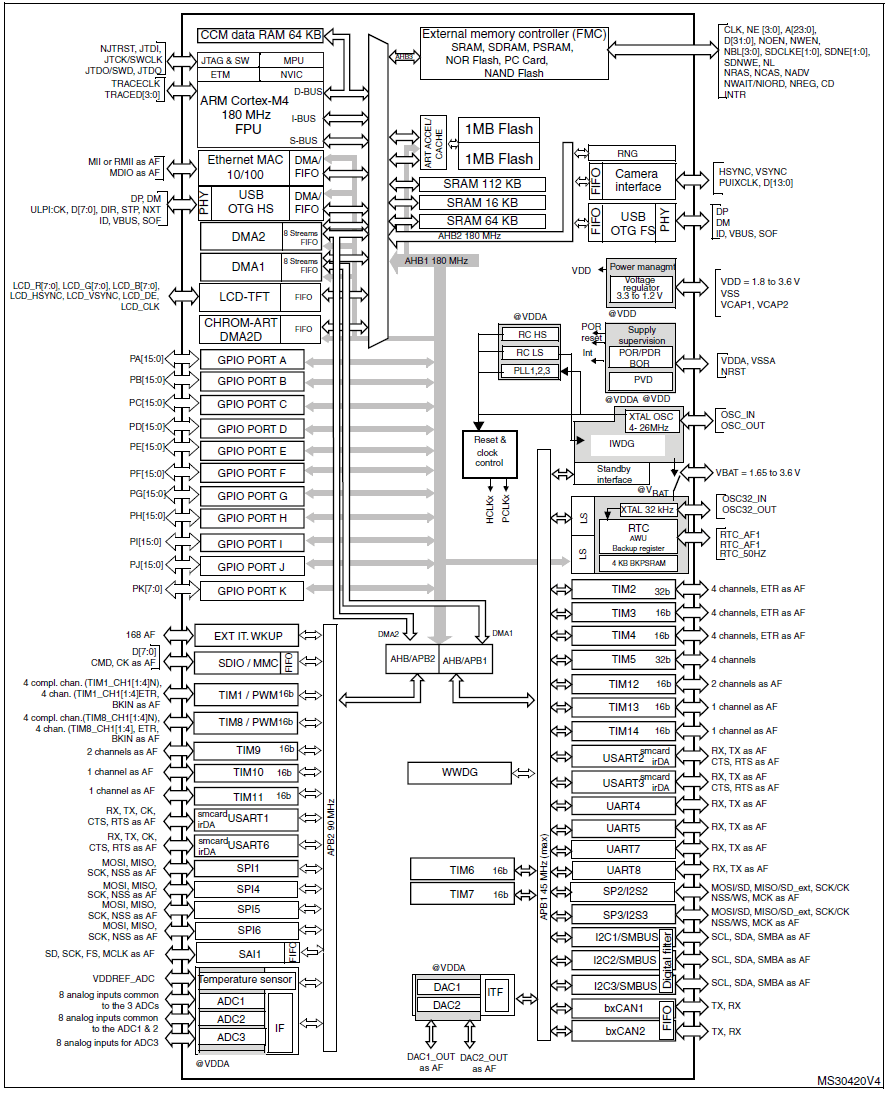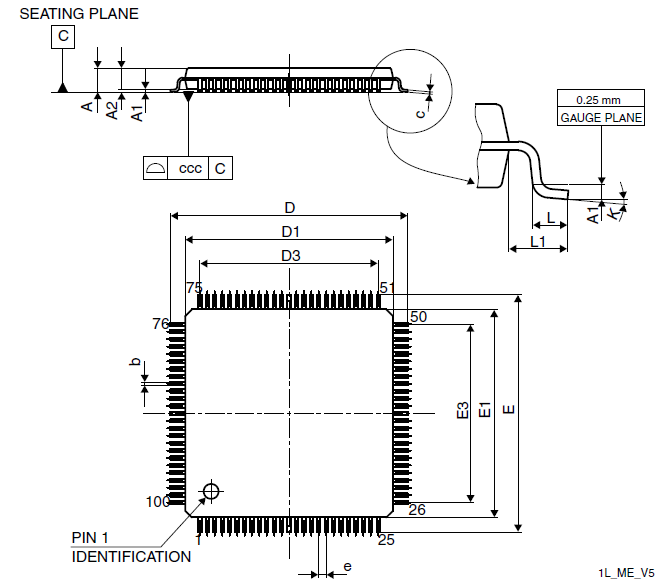 STM32F429 uses the Cortex M4 core with FPU and DSP instruction set, while STM32F1 uses the Cortex M3 core without FPU and DSP instruction set.
STM32F429 has up to 256KB of on-chip SRAM, supports SDRAM, with TFTLCD controller, with graphics accelerator (Chorme ART), with camera interface (DCMI), encryption processor (CRYP), USB high-speed OTG, true random number generator, OTP memory, etc.
Enhanced Peripheral Functions
For the same peripheral part, STM32F429 has faster analog-to-digital conversion speed, lower ADC/DAC operating voltage, 32-bit timer, real-time clock (RTC) with calendar function, greatly enhanced IO multiplexing function, 4K words 4-inch battery-backed SRAM and faster USART and SPI communication speeds.
The maximum operating frequency of STM32F429 can reach 180Mhz, while STM32F1 can only reach 72Mhz; STM32F429 has an ART adaptive real-time accelerator, which can achieve performance equivalent to FLASH's zero wait cycle. STM32F1 requires a waiting cycle; STM32F429's FSMC uses a 32-bit multiple AHB bus matrix, which significantly improves the bus access speed compared to STM32F1.
The power consumption of STM32F429xx is: 208uA/Mhz, while the STM32F1 is up to 421uA/Mhz.
The STM32F429IGT6 device contains high-speed embedded memory (up to 2mbytes of Flash, up to 256kbytes of SRAM), up to 4kbytes of backup SRAM, and a wide range of enhanced I/O and peripheral connections to two APB buses, two AHB buses and a 32-bit Multi-AHB bus matrix. All devices provide 3 12-bit ADCs, 2 DACs, a low-power RTC, 12 general-purpose 16-bit timers, including two PWM timers for motor control, and two general-purpose 32-bit timers. A true random number generator (RNG). They also feature standard and advanced communication interfaces.
With 180MHz CPU, running up to 256KB SRAM and up to 2MB dual memory bank flash;
With SDRAM interface, Chrom-ART and LCD-TFT controller;
Cortex M4 core architecture provides enhanced input/output and peripherals, including serial audio interface (SAI), true random number generator (RNG) and RTC, DAC, ADC, 16-bit and 32-bit timers;
Power saving mode is designed for low power consumption applications;
With Ethernet MAC and camera interface for CMOS sensor;
Features a floating point unit (FPU) with digital signal processing (DSP) instructions and a memory protection unit (MPU) to improve application security;
Flexible memory controller and supports Compact Flash, SRAM, PSRAM, NOR and NAND and SDRAM memory;
Audio connection: dedicated audio PLL, I2S, serial audio interface (SAI);
Communication interface: USART, UART, SPI, I2C, CAN and SDIO.
| | |
| --- | --- |
| Brand | ST (STMicroelectronics) |
| Product Category | 32-bit MCU Microcontroller |
| Series | STM32F429 |
| Lead-Free | Lead-Free / RoHS Compliant |
| Mounting Type | SMT (Surface Mount Technology) |
| Package/Enclosure | LQFP-176 |
| Operating Temperature | -40°C to +85°C |
| Interfaces | CANbus, EBI/EMI, Ethernet, I²C, IrDA, LINbus, SPI, UART/USART, USB OTG |
| Part Status | Active |
| CPU Core | ARM® Cortex®-M4 |
| Core Size | 32-bit |
| Max CPU Frequency | 180MHz |
| I/O Ports | 140 |
| Flash Program Space | 1MB |
| Program Space Type | FLASH |
| Operating Voltage Range | 1.8V to 3.6V |
| Connectivity | CAN, EBI/EMI, I²C, IrDA, LIN, SPI, UART/USART, USB OTG |
| Peripherals | Brown-out Detect/Reset, DMA, I²S, LCD, POR, PWM, WDT |
| RAM Capacity | 256 x 8KB |
| EEPROM Capacity | None |
| Dimensions (Length x Width) | 24.00 x 24.00mm |
| Original Manufacturer | STMicroelectronics |
| Height | 1.60mm |
| Supply Voltage | 1.8V to 3.6V |
Application of STM32F429IGT6
STM32F429IGT6 is widely used in inverters, PLCs, scanners, HVAC, video intercoms, home audio equipment and medical equipment.
Below are our available STM32F429 series of MCU model to unlock: