PCB Engineering Services in China Over 13 Years
Sometimes, you want to do reverse engineering upon some old PCBs to get PCB schematics for rebuilding products. Well Done Company can help you complete this process expertly.
Established in 2008, Well Done Technology focuses on PCB reverse engineering, PCB clone, and IC unlock. Our technical team of more than 40 people includes senior engineers with rich experience. With 13 years of practical experience, we have completed over 1000 pcb engineering for clients worldwide, including North America, Europe Southeast Asia.
PCB Reverse Engineering
The PCB reverse engineering services includes pcb to schematic,
gerber files
, design layout optimization. Our experts can guarantee to make 100% accurate pcb schematic diagrams. Many well-known international customers have also accredited us in various aerospace manufacturing companies or military industries.
IC Unlock
Engineers can reverse engineer your ICs and reprogram them with new firmware if needed. We employ different approaches and advanced equipment to unlock integrated circuits (ICs), including
MCU
, FPGA, DSP, ARM, CPLD, and more. Additionally, Actel, Atmel, Microchip, STCmicro, and other
IC series
are supported.
PCB Design
You can benefit from our professional printed circuit board design process from pcb layout to
pcb stack-up
and creating schematic. When the project is beginning, our pcb design engineers will build your pcb engineering by
pcb design software
. We'll use popular programs like Altium Designer,KiCAD and more.
PCB Repair
Common pcb repair engineering includes component rework, surface mount pads, solder mask repair, de-solder and relayout of boards. Furthermore, you can reqeust making changes to fix an existing design flaw. Just send your circuit board to us, our technicians will work quickly and efficiently to get it repaired.
PCB Reverse Engineering Procedures
#1 - ICs Unlock (Optional)
Extract the program from Board
25%
#2 - PCB Reverse Engineering
Get gerber file & BOM list, creating layout and converting it into a schematic
50%
#3 - Prototype PCB Fabrication
Building and producing the pcb sample with schematic
75%
#4 - PCB Functional Testing
Inspect the performance of the new board, troubleshoot issues, and fix incompatibilities before the mass production
100%
Value-added services
Looking for more service about PCB engineering? Your can benift from our wide range of services as below. And our experts will ensure no delays due to quality or errors while working on your project.
Found in 2008, Well Done PCB Limited is a circuit board engineering company in China. We provides excellent PCB engineering services by combining innovative solutions with high standard. We are dedicated to realize electronic product reduction and clone services for everyone. No matter how difficult your PCB project is, we can tailor and customize it for you.
Testimonials from Clients
What impressed me the most about Well Done is how efficient their work was. Everything from quotation, to PCB manufacturing and assembly, to component sourcing was done under one roof with them! Their prices for small features are reasonable as well. Well Done makes good job in PCB design, IC decryption projects. And they has been working together on many high-volume prototyping tasks too.
First off, I found the staff of Well Done to be professional and eager to help. They were more than happy to answer any questions that I had concerning their PCB making service before placing my order, which made me feel confident about what they could do for me. The quality of the boards was excellent as well - probably one of the best boards that I have received after getting them from a number of different suppliers in recent years!
I am trying to find a good PCB Assembly manufacturer that can produce my device, but it is a very sensitive item and any issues with the components could cause problems. However, after using Well Done's rigid PCBs, I'm extremely satisfied. Would recommend Well Done for PCB manufacture services with no reservations whatsoever! My next project will definitely involve going back-and this time because it's cheaper too!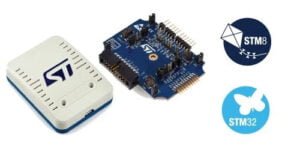 We have introduced the hardware debugger tools / programmer before, now let us learn the ST-Link programmer together. In this article, you will learn about
What kinds of IC series can i request for unlocking?

We accept 51 series, STM32 series, STM8S series, GD32 series, R5F211 series, MM32 series, MSP430 series, DSP series, FPGA/CPLD, ATMEL series, LATTICE series, DALLAS series and more.
Do you provide software reverse engineering?

Yes, we provide software reverse research and development services: software program code extraction, software rewriting, software secondary development, software disassembly, software system modification and upgrade, etc.
Can you make the PCB clone that are 100% same as the original board?

Yes, our self-developed PCB copy board software can truly achieve 100% cloning without any mistakes. We can send these electronic files to you: standardized PCB files, schematic diagrams SCH and BOM and other materials.
What industries do you serve for?

Since establishment, we have served in the fields of communication, network, electric power, industrial control, medical treatment, instrumentation, military products, automotive circuits and so on.
Send us a message if you have any questions or request a quote. Our experts will give you a reply within 24 hours and help you select the right bits you.
Don't worry, we respect your privacy. We have a strict Privacy Policy to protect your personal information.