As the heart of electronic equipment, PMIC has been widely used in electronic equipment in various fields such as mobile phones, consumer electronics, industrial control, medical instruments, and automotive electronics. This article will introduce the definition, function, principle, classification, and market landscape of PMIC.
PMIC stands for Power Management Integrated Circuit. In the circuit system, the working voltages of each chip and device are different. PMIC boosts, steps down and stabilizes the fixed voltage provided by the battery or power supply to meet the working conditions of each device. If the main chip is the "brain" of the circuit system, then the PMIC can be compared to the "heart" of the circuit system.
The PMIC is responsible for monitoring the supply voltages (or currents) on the microprocessor system to ensure that they do not go too high or too low. Typically, most PMICs can be reset with an active-high, active-low, or active-high/active-low signal.
PMIC generally contains a variety of functions. These functions include: DC-DC converter, low dropout regulator (LDO), battery charger, power supply selection, dynamic voltage adjustment, each power supply on and off sequence control, each power supply voltage detection, Temperature detection and other functions also integrate over/under voltage (OVP/UVP), over temperature (OTP), over current (OCP) and other protection circuits.
PMIC provides highly integrated power management solutions in system control, battery management, interface, audio and other specific applications. It also helps extend battery life and reduce wasted power consumption in various end applications.
Compared with other types of integrated circuits, PMIC is a relatively mature and stable segment. At present, most PMICs are manufactured based on the mature 8-inch 0.18-0.11 micron process. Amid the shortage of PMIC chips, many companies are beginning to consider switching to 12-inch PMICs.
Matthew Tyler, senior director of strategy and marketing of ON Semiconductor's Advanced Solutions Division, said that the key challenge in solving the PMIC shortage is the need to invest capital to expand production and build new factories. Matthew Tyler said: "From a macroeconomic perspective, the production capacity of 200mm (8-inch) wafers has been oversubscribed in the past few years, and some manufacturers have or are migrating production lines to 300mm (12-inch) wafers, which has been It is believed to help alleviate the tight supply situation."
Moving from 8 inches to 12 inches is not easy. On the one hand, PMIC manufacturers need to overcome circuit design problems, such as opening pins that can be compatible with electrical parameters; on the other hand, for small and medium-sized IC design houses, switching to 12 inches The cost of the production line is too high, and the increase in unit production capacity cannot make up for the cost of redevelopment, verification and tape-out.
Therefore, at present, the ones actively converting to 12-inch production lines are still dominated by large manufacturers. Foundries such as TSMC, TowerJazz and UMC began to use 12-inch processes for PMICs. After entering the 12-inch process, major customers such as Qualcomm, Apple, and MediaTek have gradually given up the previously obtained 8-inch production capacity. Among IDM factories, TI and ON Semiconductor are the most active in converting to 12-inch.
PMIC is mainly used to manage power equipment in the host system and is commonly used in mobile phones and various mobile terminal devices. PMIC is roughly divided into the following 8 types:
AC/DC modulation IC: Contains low-voltage control circuit and high-voltage switching transistor;
DC/DC modulation IC: including DC boost/buck converters, as well as charge pumps;
PFC power factor correction IC: Provides power input circuit with power factor correction function;
PWM / PFM pulse modulation or pulse amplitude modulation control IC: it is a switching power supply;
Linear modulation IC (such as linear low-dropout regulator LDO): including positive and negative regulators, and low-dropout LDO modulation tubes;
Including battery charging, protection and power display ICs, as well as "smart" battery ICs that can communicate battery data;
Hot-swappable board control IC: Eliminates the impact of plugging and unplugging from the working system on other interfaces;
Switching function IC for MOSFET or IGBT.
Framework and Working Principle of PMIC
The schematic diagram of a simple PMIC is as follows: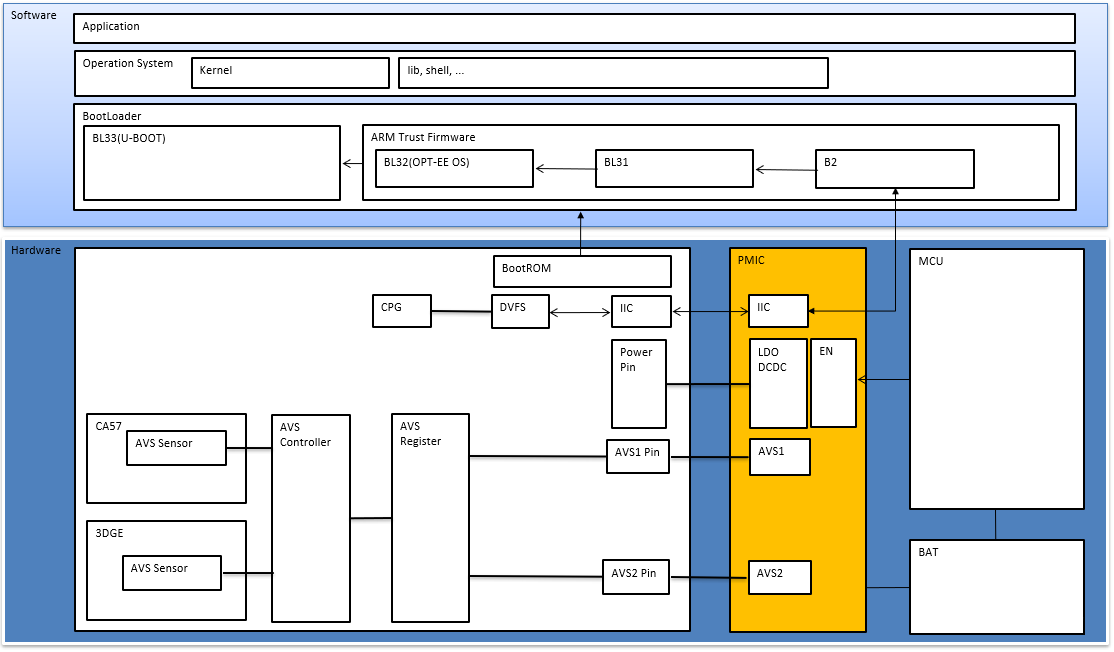 The output of each voltage of the PMIC chip can be customized through an external EEPROM. If there is no EEPROM, use the default configuration;
PMIC needs an external enable signal to start working.
PMIC supports multiple working modes: BACKUP, ACTIVE, STANDBY
Maxim's MAX77650 and MAX77651 PMICs integrate a 150mA low-dropout regulator (LDO), which provides ripple suppression for noise-sensitive applications. In addition, the controller in the SIMO control scheme ensures that all outputs are processed in a timely manner. Its functional block diagram is as follows:
Texas Instruments (TI) dominates the PMIC market share. Qualcomm ranks second, with a market share of more than 15%; ADI ranks third, with more than 40,000 related products.
The global PMIC market size has continued to grow in recent years, reaching 146.942 billion yuan in 2021. According to Burgess Consulting, it will reach 201.031 billion yuan by 2027.
Among them, the Asia-Pacific region, dominated by mainland China, will be the regional market with the largest growth in the future. China's PMIC market size has reached approximately 36.736 billion yuan in 2021, accounting for about 23% of the global market.
In the past, the Chinese market has been dominated by Taiwanese manufacturers such as Richtek, GMT, Novatek and European and American analog chip giants such as TI. In the 2021 China panel factory power management chip PMIC market ranking, manufacturers in Taiwan account for more than 70%, occupying the vast majority of the market share.
In the past few years, several PMIC chip companies have reached mergers, acquisitions, or cooperation agreements.
In 2019, China Yachuang Electronics acquired the PMIC-related business patent rights of South Korea's Tamul, enabling it to develop automotive-grade power management chip business. At present, a variety of PMIC chip products independently developed and designed by Yachuang Electronics have passed AEC-Q100 and other automotive regulatory certifications, and have been applied in batches on related models of world-renowned car companies such as Hyundai Motor and Chrysler.
In July 2020, analog IC manufacturer Analog Devices (ADI) acquired Maxim for US$20.9 billion in an all-stock deal. The two companies are top competitors in the field of power management chips, and the combined company's total market value is expected to exceed US$68 billion.
By acquiring Maxim, ADI can strengthen its competitiveness in the automotive, industrial control and other fields. In particular, Maxim's deep accumulation in the field of power management ICs can also help ADI improve its consumer electronics product line and increase Analog Devices' power management chip market share.
At the end of 2021, MediaTek announced that it would spend US$85 million (approximately RMB 558 million) to acquire assets related to the Enpirion power management chip product line of processor major Intel (Intel) through its subsidiary Richtek Technology.
In the past, consumer electronics such as smartphones were an important application area for power management chips. A mobile phone required 1-2 power management chips, and a 5G mobile phone required 3-10 power management chips.
In the fourth quarter of 2022, the weakness on the consumer side will bring about the continued decline of PMIC prices. Data agencies predict that in the fourth quarter, due to continued weakness in consumer electronics demand and increased inventory pressure on various suppliers, PMIC prices may further decline in the fourth quarter, by about 4-9%.
In the automotive field, PMIC has ushered in another turn of events. After the wave of vehicle electrification hit, the overall demand for PMIC showed explosive growth. According to data previously released by STMicroelectronics, compared with traditional cars, the number of power management chips required for a new energy vehicle has increased by nearly 20%, reaching 50.