The DS2431 is a 1-Wire® EEPROM device that is made up of four memory sections, each one having 256 bits. A scratchpad of eight bytes is used to store data, and the data is then copied to the EEPROM. In addition, the four memory sections can be individually switched to EPROM-emulation mode, where bits can only be altered from 1 to 0. The DS2431 communicates using a single wire. The 1-Wire protocol is used for communication.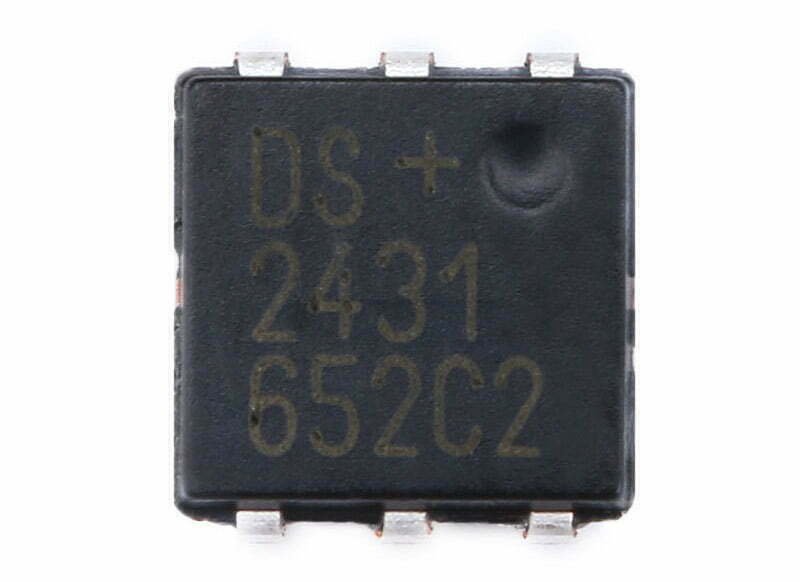 Analog sensor calibration, including IEEE P1451.4;
Accessories/PCB identification, smart sensors;
Ink and toner cartridge identification;
Automotive sensor identification and calibration;
data storage, automotive cable assembly identification.
The DS2431 contains 1024 bits of electrically erasable and programmable ROM partitioned into four pages of 256 bits each.
The ROM-emulation mode allows individual pages to be permanently write-protected or set to EPROM-emulation mode ("write to 0").
Switchpoint hysteresis and filtering are used to optimize performance in the presence of noise.
The DS2431 is built to withstand voltages from -40°C to +125°C and includes IEC 1000-4-2 Level 4 ESD protection (+8kV contact, +15kV air, typical).
The device communicates with a host using a single digital signal at 15.4kbps via the OneWire protocol.
It also meets the AEC-Q100 Grade 1 quality standard. Standard versions are also available for industrial temperature range (−40°C to +125°C) (DS2431).