Introduction to C2000 Microcontrollers
The C2000 microcontroller is designed specifically for real-time control and has two main application areas: digital power control (such as solar and wind power, communication and server power) and motor control (including household electronic products such as air conditioners, refrigerators, washing machines, drones, electric vehicles, water pumps, industrial servo drives such as industrial robots, servo drives, inverters, etc.). It is also suitable for many automotive applications due to its automotive-grade certification requirements.
The F28003x microcontroller is a part of C2000 family manufactured by Texas Instruments. It is a type of embedded system chip for the development of industrial control applications. It is designed to provide reliable, efficient, and high-performance processing capabilities for a wide range of control systems, including motor control, power conversion, and digital signal processing.
Features and Capabilities
The real-time control subsystem is based on TI's 32-bit C28x DSP core, which provides 120MHz of signal processing performance for floating-point or fixed-point code running from on-chip flash memory or SRAM. The performance of the C28x CPU is further enhanced by the Floating Point Unit (FPU), Trigonometric Function Accelerator (TMU) and VCRC (Cyclic Redundancy Check) extended instruction set, thereby accelerating the speed of the main commonly used algorithms for real-time control systems.
High-performance Peripherals
At the same time, the F28003x real-time microcontroller also integrates high-performance analog modules, which are closely combined with the processing unit and PWM unit to provide better real-time signal chain performance. 16 PWM channels, including 8 channels with high-resolution capabilities (150ps resolution), can control various power stages, from three-phase inverters to power factor correction and advanced multi-level power supply topologies.
A variety of industry-common communication ports such as SPI, SCI, I2C, PMBus, LIN, CAN, and CAN FD are not only available for connectivity, but also provide multiple pin muxing options for excellent signal placement. Fast Serial Interface (FSI) enables robust communication up to 200Mbps across isolation boundaries.
Host Interface Controller
The C2000 platform adds the Host Interface Controller (HIC), a high-throughput interface that allows external hosts to directly access the resources of the F28003x. Compared with the previous generation DSP, the performance of this series of devices has been greatly improved, and it is compatible with the fixed-point C28x controller software, which simplifies software development, shortens the development cycle, and reduces development costs.
Maximum operating frequency: 120 MHz
Flash memory: 384 KB
RAM: 69 KB
Clock system: 10-MHz oscillators
Analog system: 3 12-bit ADCs with 4 MSPS sampling rate, 2 DACs 12-bit
Communication interfaces: 2 CAN, 2 SPI, 2 I2C, 4 UART
Peripherals: 2 Timers, 16 Channels PWM, 55 GPIO pins, 6-channel DMA
Temperature: –40°C to 150°C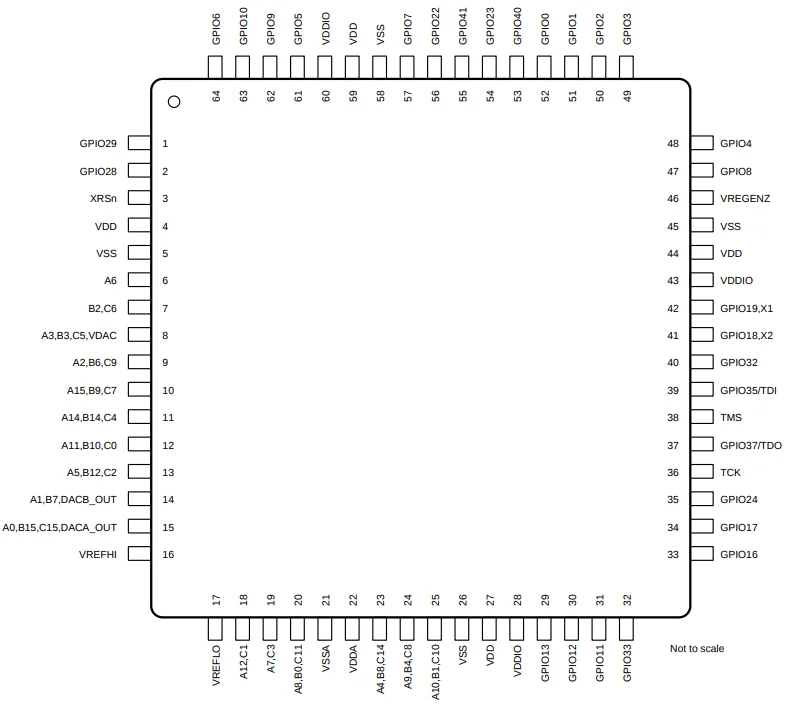 The F28003x microcontroller is commonly used in applications such as electric vehicles, renewable energy systems, and industrial automation.
Motor control: brushless DC (BLDC) motors, AC induction motors, and stepper motors, variable frequency drives, servo drives, and robotics.
Power electronics: inverters, converters, and switch-mode power supplies.
Industrial automation: programmable logic controllers (PLCs), human-machine interfaces (HMIs), and sensors.
Renewable energy systems: solar panels, wind turbines, and energy storage systems.
Automotive applications: powertrain, chassis, electric power steering, engine management and safety systems.
Consumer electronics: high-end audio equipment, home automation systems, and gaming consoles.