PIC18F14K50 is a low-cost microcontroller with advanced features and special value in the embedded USB market. It has a full-speed USB 2.0 compatible interface that can automatically change clock sources and power levels, making it ideal for battery-powered applications.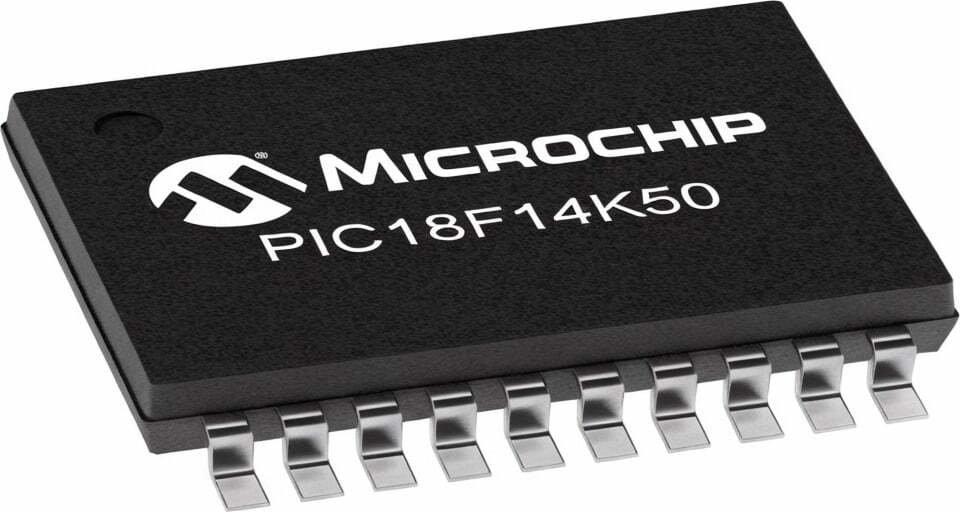 Processing power:
High-performance PIC18 core
Architecture optimized for C compiler
8×8 single-cycle hardware multiplier
Dual capture/compare/PWM interface – up to 5 PWM outputs – programmable dead time, auto-shutdown/restart
Memory and data storage:
256-byte dual-access RAM with flexible clock options
Communication interfaces:
USB V2.0 compatible interface
Master I2C/SPI interface – supports all 3-wire SPI modes – address mask I2CTM compatible Master and Slave modes
Enhanced addressable USART module – supports RS-485, RS-232, and LIN2.0
Analog and digital input/output:
10-bit, 9-channel ADC module – can sample and convert automatically – can operate in sleep mode
mTouchTM touch-compatible analog comparator W/SR latch – Rail to Rail operation – independent input multiplexing
Programmable on-chip voltage reference – versatility for operation with comparators or ADCs
Power management:
Software-programmable under-voltage reset function
Four power management operating modes
Dual-speed clock start-up option
Other features:
Self-programming under software control
Support for interrupt priorities
Programmable period enhanced watchdog timer for full-speed UART
Supports low-speed and full-speed operation
Supports control, interrupt, synchronous, and bulk transfers
Up to 16 endpoints (or 8 bidirectional)
Automatic detection of physical connection to USB host
Can operate at up to 48MHz internal frequency
Fully adjustable internal oscillator – adjustable frequency drift
Internal 4X Phase-Locked Loop (PLL) – can use external or internal oscillator
Fail-safe clock monitor – can safely shut down during oscillator failure
CPU Speed: 48 MHz
16K bytes of flash memory
768 bytes of RAM
256 bytes of data EEPROM
Size: 16 KB
RAM Size: 768 B
Number of I/O Pins: 18
Operating Voltage Range: 1.8 V to 5.5 V
25 mA GPIO sink/source current
Package/Case: PDIP20, SOIC20, SSOP20, QFN20
the PIC18F14K50 is available in four different packages with different pinouts: PDIP20, SOIC20, SSOP20, and QFN20.