No matter what project electronics engineers are working on, they must know exactly how circuits are laid out and how they work. However, finding the right PCB design software or tools can be a daunting task for electronics engineers. Because they are so busy and there are so many tools to choose from.
To save electronics engineers time when designing PCBs, we have compiled a list of 46 popular PCB design software. Different software may be appropriate for different PCB designs. In order to realise this, we have included three categories of simple tools, free tools, and proprietary tools in the list. Read on for more information:
Advanced Circuits is a leading PCB manufacturer with the industry's largest database of active customers and the best track record for on-time shipments. Their PCB Artist is a solid software tool for electronics engineers looking for reliable, easy-to-use solutions. Electronic engineers also choose PCB Artist because it saves time and money.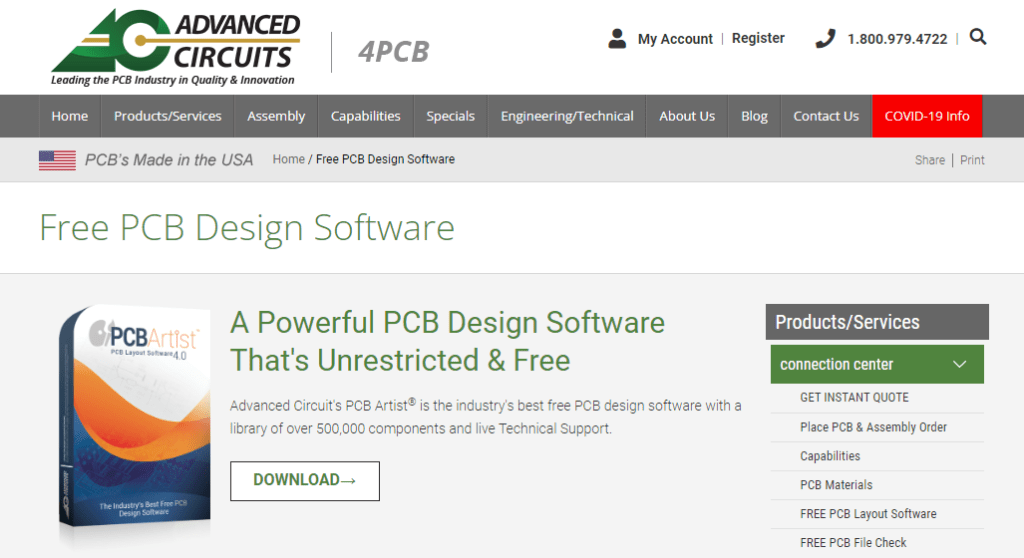 Feature:
Parts library of over 500,000 parts;

Free Gerber Format File;

Integration Schematic;

Parts list report in CSV;

Design rule checking for error reporting and between selected items.
Cost: Free
National Instruments (NI) accelerates engineering success through its open, software-centric platform that leverages modular hardware and an expansive ecosystem. Electronics engineers specifically choose National Instruments' Utiliboard because it provides a rapid PCB prototyping environment for a variety of applications.
Features:
Seamless integration with Multisim;
Save electronics engineers hours of development time;
Complete circuit schematic, SPIC simulation and PCB layout in the same environment;
Accelerates PCB design with automated functions while maintaining accuracy with manual controls;
Complement Multisim's powerful SPICE simulation environment with PCB layout and routing capabilities.
Cost: Free evaluation; contact for quote
Altium Designer software is regarded by many as the most trusted PCB design system. It is simple and efficient, easy to use, and meets the modern needs of professional electronics engineers.
Features:
Easy Design Automation;
Unlimited engineering scope;
Seamless ECAD/MCAD integration;
Trackable and manageable;
Intuitive teamwork;
Layered and Multi-Channel Design;
High-speed and high-density design;
Validate designs in the mechanical domain;
Centrally trusted design assets.
Cost: Free trial; Standard Edition: $358; Lifetime Edition: $11,870
4. SOLIDWORKS Electrical Schematic
For electronic design, SOLIDWORKS® provides powerful design technology with on-demand bidirectional integration with SOLIDWORKS CAD. And, their PCB solutions blend CAD and PCB design together for flawless collaboration.
Features:
Combines the best techniques in PCB design with an easy-to-use interface;
Link with SOLIDWORKS CAD for an efficient design experience;
Complete PCB design quickly and easily to continue your product design workflow.
Cost: Contact for a quote
DipTrace is a PCB design software tool for electronics engineers with an intuitive interface and extensive functionality. For PCB layout, DipTrace provides intelligent manual routing and shape-based autorouter for board design. Electronics engineers prefer DipTrace's single environment with direct board-to-board conversion, schematic updates and post-annotation capabilities.
Features:
real-time DRC;
Differential part;
3D preview;
STEP export;
Placement feature allows manual placement of components via simple drag and drop or automatic placement of component nets, components and individual pads based on custom settings Fanout capabilities.
Cost:
DipTrace Full:

$1,195

– Unlimited pin count, unlimited signal layers;
DipTrace Extended:

$695

– 2,000 pins, 6 signal layers;
DipTrace Standard Edition:

$395

– 1,000 pins, 4 signal layers;
DipTrace Lite:

$145

– 500 pins, 2 signal layers;
Getting Started with DipTrace:

$75

– 300 pins, 2 signal layers.
SiliconExpert combines schematic tools, PCB tools, Math calculators, RF tools, Passive tools online. They also sell parts in numerous fields, including semiconductors, electronic components, mechanical parts, measurement, automatic control, materials and chemistry, optoelectronics and displays, etc.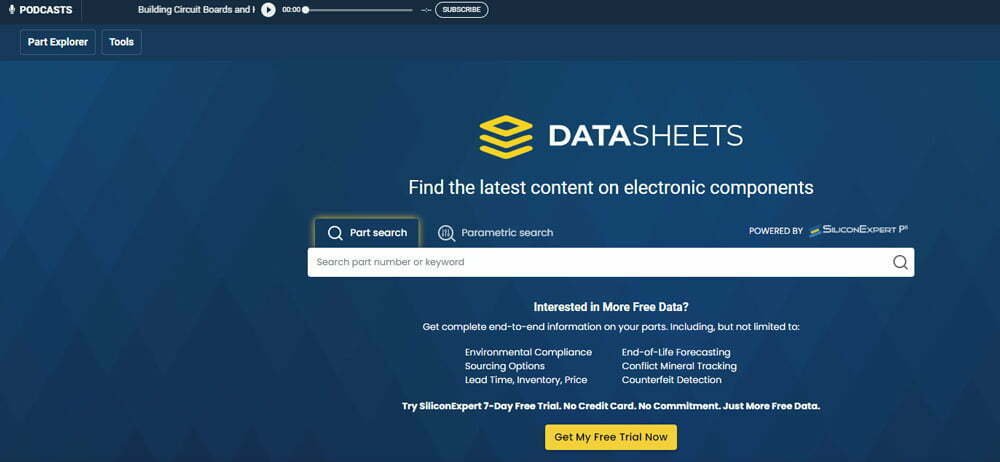 Features:
Simple and easy to use;
Online spice simulator;
Shematic capture tool & converter;
Free online caculator for RF tools, and PCB;
A complete library of electronic parts data sheets.
Cost: 7-Day Free Trial; contact for quote
Written and maintained by electrical engineer Tim Edwards, XCircuit is a schematic capture program for presentations and an electronic design automation (EDA) tool. When electronics engineers need to draw publishable-quality circuit schematics and related graphics and generate netlists from schematic capture, they incorporate XCircuit into their PCB design software toolbox.

Features:
Provide online tutorials;
The output is suitable for publishing;
Treat circuits as inherently hierarchical structures and write hierarchical PostScript output and hierarchical SPICE netlists;
Support for saving circuit components in fully editable libraries;
Maintain style flexibility without compromising the functionality of schematic capture;
Especially useful for tasks that require the reuse of a set of standard graphics objects, including PCB layouts.
Cost: Free
Gerbv is available on sourceforge, it is an open source Gerber file viewer for RS-274X only. Electronic engineers can use gerbv to load multiple files into each other.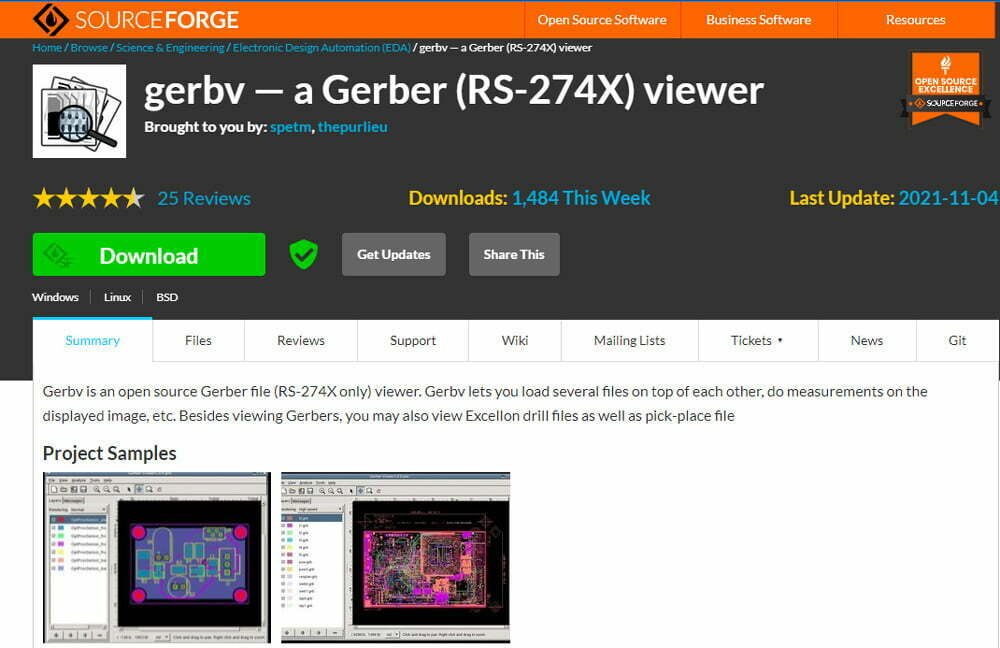 Features:
Measurements can be made on the displayed image;
Support for viewing Excellon drill files;
Can view placed files.
Cost: Free
KiCad EDA is a cross-platform and open source electronic design automation suite that includes schematic capture, PCB layout, and a 3D viewer for electronic engineers. Create unlimited designs with KiCad EDA, make professional PCB layouts and check designs in an interactive canvas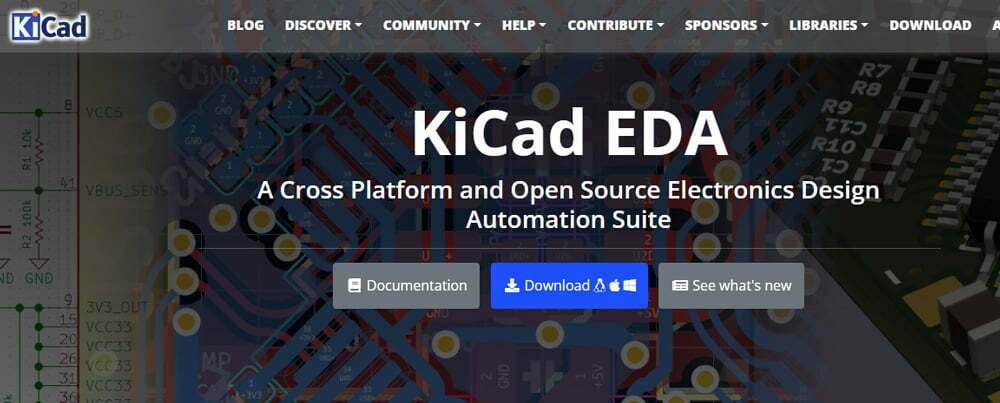 Features:
Up to 32 copper layers;
Arrange planks faster;
Trajectories can be drawn or rearranged around obstacles while the KiCad pushes forward;
Push and push routers to ensure your DRC constraints are respected;
Footstep Editor (GAL).
Cost: Free
DesignSpark targets the engineering and maker communities with free PCB, Mechanical and Electrical software. It's a good choice when an electronic engineer needs to take an idea from concept to creativity.
Features:
Seamless integration into existing design workflows;
Unlimited schematic size;
Use multiple layers required for PCB design;
The maximum size of the PCB is 1m x 1m;
Create your own part models in the library editor or access ready-made embedded libraries;
Prepare unlimited Gerber and ODB++ files to order PCBs or let DesignSpark's PCB Quote Service build it for you.
Cost: Free
Finding PCB Design Services?
Guaranteed Qaulity, Negotiable price. 
By providing 3D design, engineering, and entertainment software and services, Autodesk makes the electronics engineer's job easier with Eagle PCB. This powerful and easy-to-use PCB design software tool makes engineers' dreams come true.
Features:
Easy-to-use schematic editor to bring your ideas to life;
Intuitive PCB layout tools bring designs to life;
Accessible library content allows electronics engineers to skip the hustle and bustle and get creative with ready-to-use parts libraries;
Routing Engine enables modern PCB routing tools to speed up complex layouts;
Modular design modules for quick reuse of subcircuits synchronized between schematic and PCB;
Escape ball grid array in seconds.
Cost: Free trial
EAGLE Standard Subscription:

$15

/month,

$100

/year;
EAGLE Premium Subscription:

$65

/month,

$500

/year.
CircuitMaker is a free PCB design tool powered by Altium and it also includes a group of creative people who work together to invent circuits and electronics. Electronic engineers looking to create better future products often use it to turn their ideas into products.
Features:
Design high-quality schematics and PCBs with no artificial limits on layer count or board area;
Rely on the community to find reference designs and promote and evaluate other projects;
Build a team for collaborative design.
Cost: Free
Pad2Pad is a printed circuit board manufacturer with free design software. Electronic engineers use Pad2Pad to create products with through-hold components, netlist import, any board shape, and auto-routing.
Features:
User-friendly and intuitive interface;
Automatic error checking;
BOM integration with Digi-Key;
Alignment mode;
Trace Simplifier;
Cost: Free
OrCAD is the PCB design software tool of choice for over 40,000 engineers. Electronic engineers choose OrCAD because it is reliable and can scale as the business grows. Furthermore, it provides a complete environment from the initial schematic to the final figure.

Features:
Address evolving design challenges and provide scalability for future challenges;
Fully integrated simulation and analysis technology ensures first pass without translation;
Intuitive interface makes OrCAD easy to learn and use;
Award-winning OrCAD technology provides powerful and effective functional depth.
Cost: Free trial; contact for quote
ZenitPCB is a free PCB layout software tool for electronics projects. ZenitPCB is a flexible and easy-to-use program that helps electronics engineers create projects in a short period of time as it is intuitive.
Features:
Designed for personal or semi-professional use;
Limited to 800 pins;
Developed by PCB designers;
Create PCBs quickly and intuitively.
Cost: Free
CircuitStudio is a professional PCB design tool for modern electronics engineers. Use CircuitStudio to rapidly design advanced PCB layouts with interactive routing, collaborate with mechanical design teams, and simulate and ship advanced electronics.
Features:
Intelligent Situs auto-routing technology;
3D PCB editing and STEP MCAD support;
Integrated analog and digital simulation;
Smart schematic capture and PCB layout;
Easy-to-use interface and customizable workflow;
Fully compatible with Altium Designer and EAGLE Design History.
Cost: 30-day free trial; contact for quote
Sunstone Circuits has been providing high-quality, on-time PCB prototypes for over 40 years. They also offer PCB123, which is professional quality PDB design software.
Features:
Improved polygon functionality for merging, cropping and optimizing more complex designs;
Free Gerber files with every order of PCB123;
Enhanced user controls for faster rendering, smoother drag and drop, more zoom controls, and a unified control panel;
Slots and cuts in the part definition;
Cost: Free
CUSPICE provided by ngspice is available on the CUDA platform and supports devices such as BSIM4v7, capacitors, self and transformers, current sources, resistors and voltage sources.
Features:
Modified to take advantage of the parallelism provided by the CUDA platform;
Transistor-loaded simulation is sped up tremendously (up to 3 times) when using the accelerated simulator;
Requires an NVIDIA video card with Fermi or newer architecture and a working CUDA environment;
CUSPICE works well on large-scale circuits (those with thousands of transistors).
Cost: Free
FreePCB is a free and open source PCB editor of Microsoft Windows. It is easy to learn and use, yet enables electronics engineers to produce professional quality work. If necessary, engineers can use the web-based FreeRout and Autorouter together with FreePCB, as it does not include an Autorouter.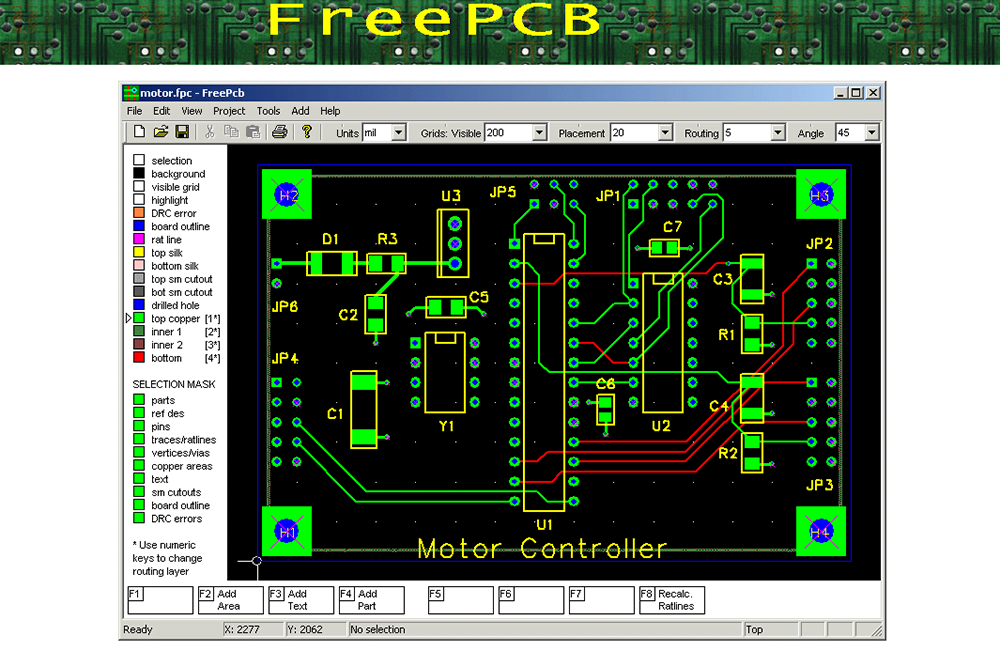 Features:
1-16 copper layers;
Board size up to 60″ x 60″;
Copper filled area;
With Footstep Wizard and Footstep Editor.
Cost: Free
20. Mentor Graphics Xpedition
A leader in electronics design automation, Mentor Graphics PCB offers Xpedition, a PCB design software tool for electronics engineers. Described as "the industry's most innovative PCB design process," Xpedition includes unique, patented technologies that reduce design cycles by at least 50 percent while improving overall quality and resource efficiency.

Features:
Multi-Board System Design;
PCB virtual prototyping can deliver higher quality products faster;
Collaborative placement and routing of highly complex PCBs;
Capture, validate and communicate design intent throughout the PCB design process;
PCB data management and a single integrated solution for WIP design and library management;
Get designs right the first time and meet the most demanding PCB manufacturing process rule sets.
Cost: Contact for a quote
ExpressPCB is an easy-to-learn PCB design software tool. This free tool is for beginners and professional electronics engineers who will benefit from the ExpressPCB community library as they complete their designs.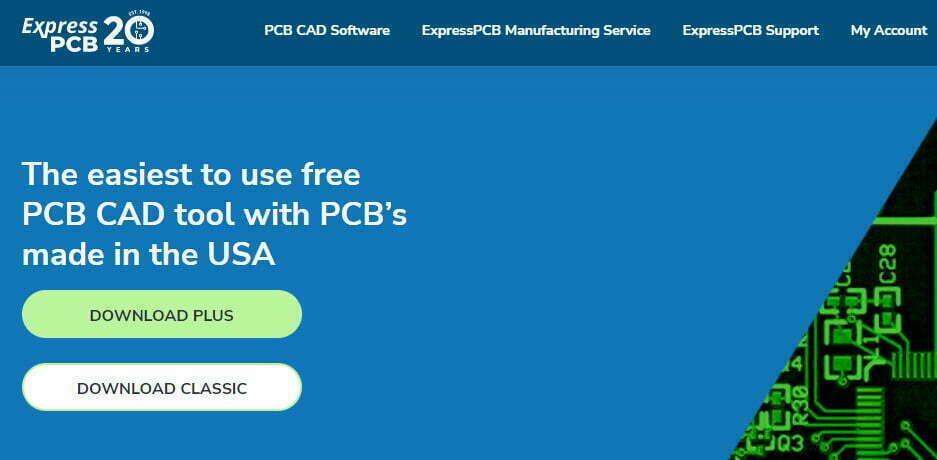 Features:
Works with XP, Vista and Windows 7/8.1/10;
Standardized Windows user interface;
You can choose whether to draw the schematic first with the ExpressSCH program;
Two or four layer boards can be designed;
PCB designs can be analyzed to identify potential problems.
Cost: Free
Easy-PC PCB is PCB design software from Number One Systems. Teams and individuals choose Easy-PC PCB because it is a cost-effective and scalable professional design tool.
Features:
easy to use;
Dedicated manned support;
Library management tools;
Library Creation Wizard;
3D preview;
Automatic project version control;
Create PCB Designs Without Schematics;
Design reuse;
Copper base casting;
Fully integrated auto router.
Cost:
Easy-PC integrates schematic capture and PCB layout;
Unlimited pin license:

£497

;
2000 Pins License:

£397

;
1000 Pins License:

£297

.
TINA (Interactive Network Analysis Toolkit) Design Suite is a powerful circuit simulation and PCB design software package available offline and online for electronics engineers. TINA from DesignSoft is powerful yet affordable for analyzing, designing and testing in real-time analog, digital, HDL, MCU and mixed electronic circuits and their PCB layouts.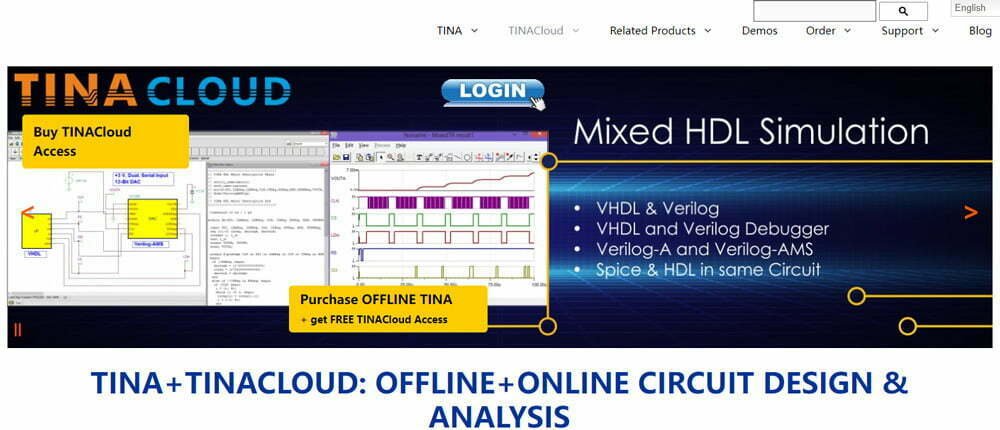 Features:
Easy to use;
High performance tool;
Edit and run circuit simulation designs online;
Fully integrated layout module includes all functions required for PCB design.
Cost:
TINA 11.0 Design Suite Basic Edition, single user:

$129

;
TINA 11.0 Design Suite Basic Plus, single user:

$299

;
TINA 11.0 Design Suite Classic Edition, single user:

$600

;
TINA 11.0 Design Suite Industrial Edition, single user:

$1200

.
Fritzing is an open source hardware initiative, a free software tool that enables designers, artists, hobbyists, and engineers to creatively collaborate with interactive electronics. Fritzing also includes a community website and services for processing, while Arduino has built an innovative community for documenting prototypes, sharing with each other, teaching electronics, and laying out and building specialty PCBs.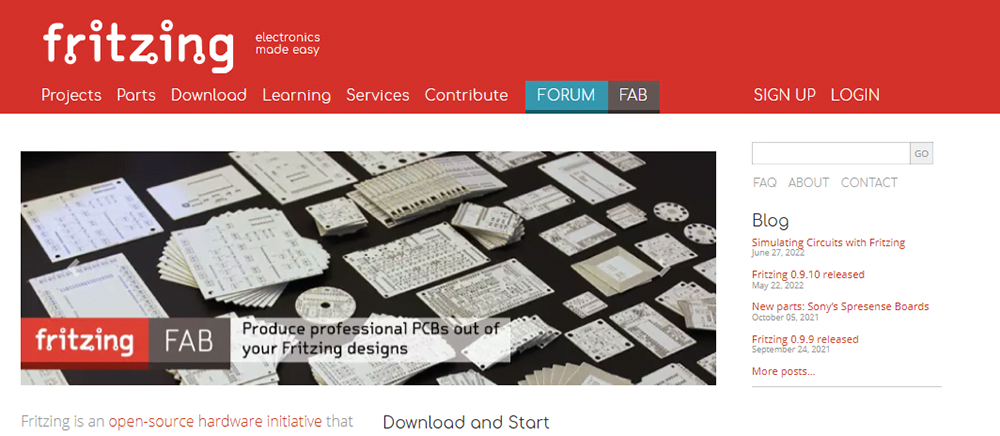 Features:
Be inspired by projects within the Fritzing community;
Ideal for beginners through professional engineers;
Turn your PCB sketches into professional PCBs with Fritzing Fab.
Cost: Free
EasyEDA is a web-based EDA, schematic capture, spice circuit simulation and PCB layout tool for electronics engineers. The developers at EasyEDA set out to create a PCB design software tool that provides comprehensive data and collaboration tools to help engineers and designers go from idea to product easier and faster.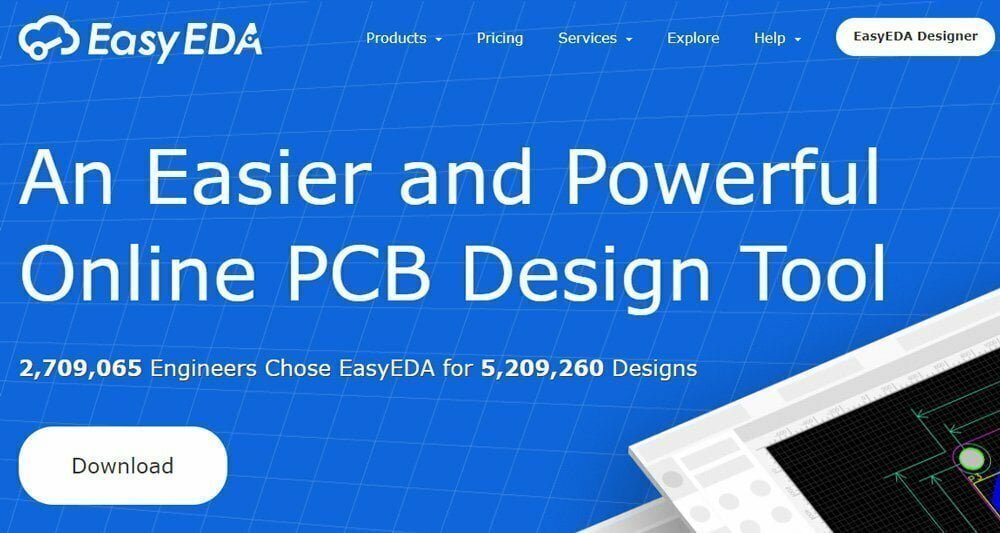 Features:
Complete circuit simulation, PCB design and electronic circuit design online;
Supports Mac, Linux, Windows, Android and all other platforms by requiring zero-installation and electronics engineer support in a cross-platform environment;
Powerful PCB layout and simulation capabilities with a large library of schematic components, PCB footprints and packages, spice simulation, and more;
Import designs from Eagle, Altium, KiCad and LTspice;
Operates and lays out PCB designs quickly, even with multiple layers and thousands of pads.
Cost: Free
Proteus from Labcenter Electronics combines power and simplicity. It helps electronics engineers design, test and lay out professional PCBs quickly and easily. Additionally, it includes a world-class shape-based autorouter, making it a complete software design tool for the modern engineer.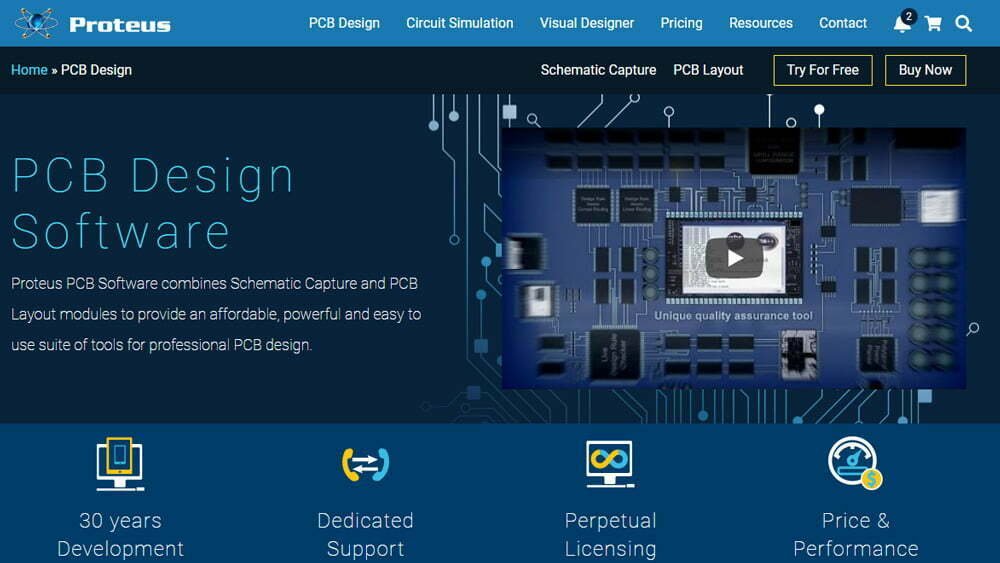 Features:
Nearly 800 microcontrollers on schematics available for simulation;
Professional PCB Layout Kit;
Combining schematic capture and ARES PCB layout program;
Full functionality but with a simple, clean UI.
Cost:
Proteus PCB Design Level 1, 500 pins in netlist:

$248

;
Proteus PCB Design Level 1, 1000 pins in netlist:

$487

;
Proteus PCB Design Level 1, 2000 pins in netlist:

$652

;
Proteus PCB Design Level 2+, 1000 pins in netlist:

$982

;
Proteus PCB Design Level 2+, 2000 pins in netlist:

$1642

;
Proteus PCB Design Level 2+, Unlimited Pins in netlist:

$2022

.
Upverter is a leader in cloud-based PCB design tools, and they attribute their success to empowering engineers by providing them with world-class technology, knowledge and support. With the power of collaboration tools, electronics engineers can find a faster design process that saves time and reduces board errors.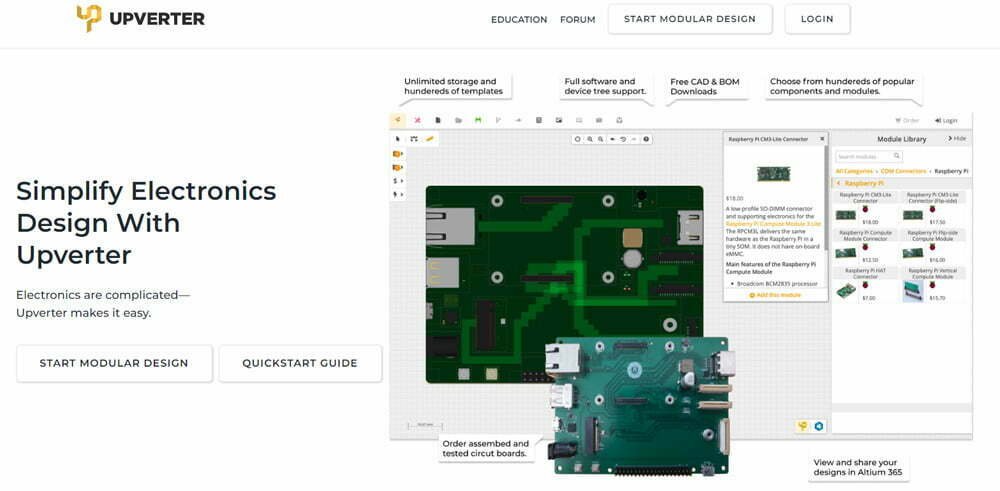 Features:
Eliminates the need to create and verify schematic symbols and footprints;
On-demand part verification eliminates risk of symbol and packaging errors;
Centralized library management;
A growing component library with proven parts from Texas Instruments (TI), Broadcom, Atmel, Cypress Semiconductor, and many others.
Cost:
Free trial;
Getting Started: Free;
Professional: $100 per month;
Businesses: Contact for a quote.
Available in Wizard, Standard and Professional editions, the PCB Wizard Design tool integrates circuit design, PCB design, simulation and CAD/CAM manufacturing in one package. The Professional Edition integrates the entire design process, giving electronics engineers the tools they need to craft a project from start to finish.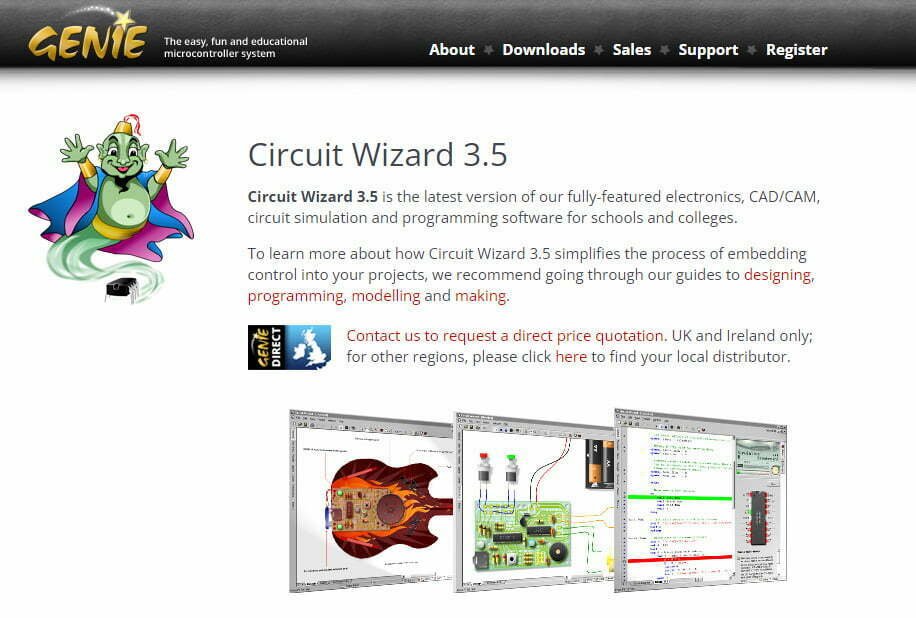 Features:
Including screen testing of the PCB prior to construction;
500-1500+ models in the component library;
ANSI and DIN symbols;
Exterior components;
Interactive PCB layout simulation;
Breadboard Simulation;
Screen animation;
Automatic PCB routing.
Cost: Contact for a quote
Available on Sourceforge, TinyCAD is an open-source program for drawing circuit diagrams or schematics. TinyCAD is the PCB design software tool of choice for electronics engineers who want a solution for a PCB layout program that supports standard and custom symbol libraries and supports multiple netlist formats.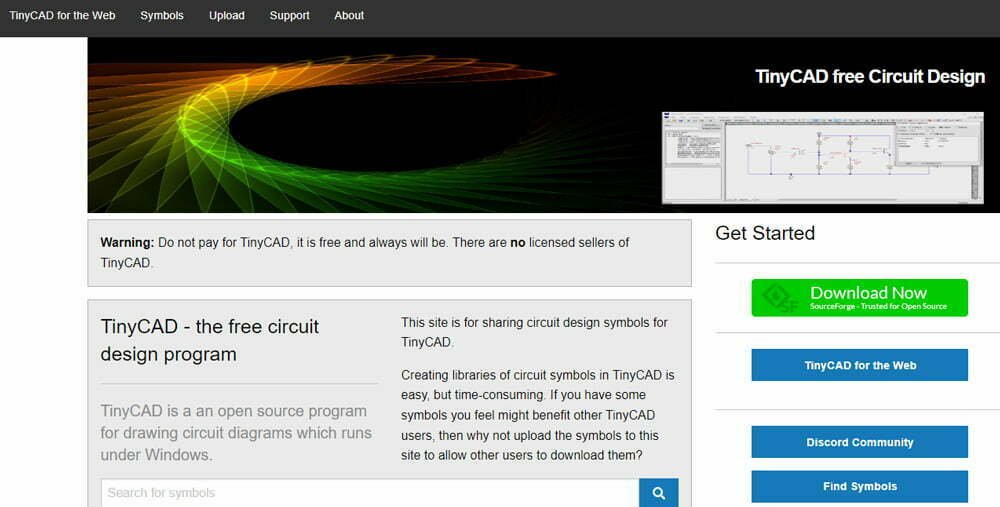 Features:
Commonly used to draw one-line diagrams, block diagrams and appearance diagrams;
Flat or Hierarchical Schematic Entries;
Includes many popular PCB layout compatible netlist formats;
Convenient support for embedding graphic images in graphics.
Cost: Free
AutoTRAX DEX PCB is an integrated PCB design software and EDA for electronic engineers. Quickly and easily transition from design to production using a PCB design software tool that includes a hierarchical project manager.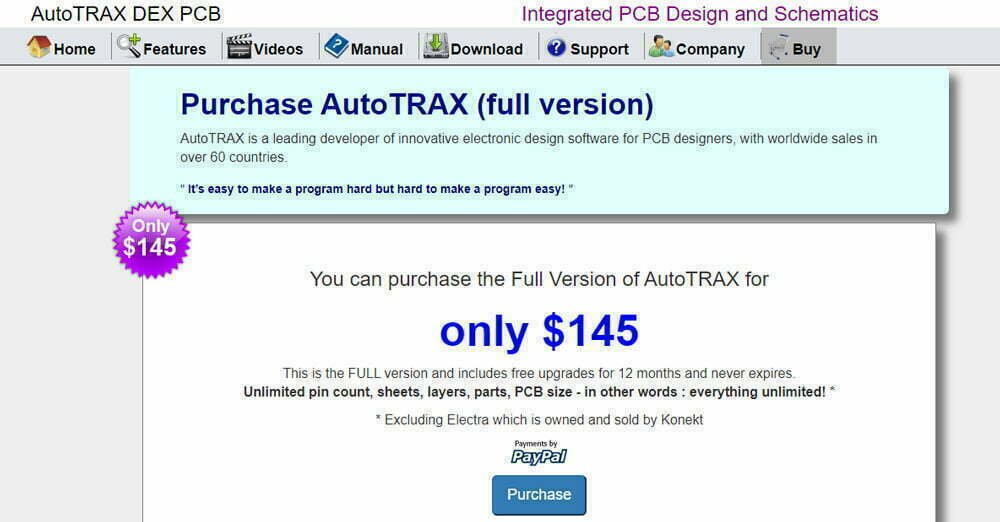 Features:
Perform top-down and bottom-up design and reuse design components and subsystems;
Schematic capture and PCB layout;
Unified electronics design software with unmatched capabilities to design and build current and future electronics;
Make sure your design stays correct without dangling wires or violating PCB design rules;
Quickly design-to-production with assembled PCBs without leaving the AutoTRAX program;
Use auto-routing or a combination of auto-routing and manual routing for all electrical wiring.
Cost: $145(never expires)
NI Multisim from National Instruments is powerful circuit design software, an advanced, industry-standard, best-in-class SPICE simulation environment used by electronics engineers worldwide. 
Features:
Analyze analog, digital and power electronics;
Brand new parametric analysis;
Integration with new embedded targets;
Simplified design with user-definable templates;
Over 6,000 new components from leading manufacturers;
Integration with NI Ultiboard for rapid layout and prototyping process.
Cost:
Multisim Basic Edition for Windows: $

1,617

;
Full Multisim for Windows:

$2,826

;
Multisim Power Pro Edition for Windows:

$4,186

.
Zuken provides software solutions for PCB design, electrical routing from schematic to wiring harness and panel layout, and e-PLM. Electronics engineers choose the Zuken CR-8000 when they need advanced PCB design software with a product-centric 3D PCB design platform.

Features:
Multisite ECAD Libraries and Data;
2D/3D Multi-Board PCB Design;
Bridge the gap between marketing needs and detailed design through design exploration;
3D ECAD/MCAD fusion;
Chip package board co-design;
FPGA pin optimization.
Cost: Free trial; contact for quote
Bay Area Circuits is a PCB manufacturer specializing in quick turn prototypes for businesses, designers, makers and hobbyists. Their PCB Creator is a free PCB layout and schematic capture software that is the perfect solution for electronics engineers who want to use a powerful design tool without spending a lot of money.
Features:
Easy-to-use manual and automatic routing tools;
Component and pattern editor for making new parts and footprints;
Import and export custom PCB designs and libraries with other EDA tools;
Capture with Schematic &

Preview 3D designs;

Create 2-4 layer custom PCBs with integrated pricing and ordering options;
Powered by the DipTrace platform.
Cost: Free, with a paid upgrade to DipTrace
Pulsonix PCB is a global EDA company specializing in schematic capture and PCB design software. Electronic engineers use Pulsonix's advanced yet affordable PCB design software tools to improve their electronic design process.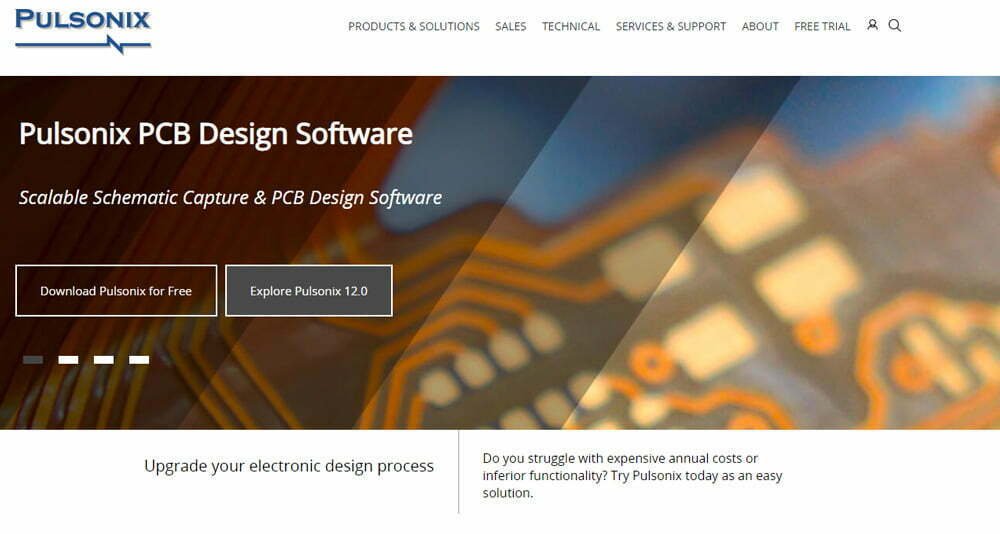 Features:
QSchematic Capture includes a feature-rich toolset in the Pulsonix Schematic Editor;
Sophisticated, fully integrated PCB design with smart features to help with complex everyday PCB design;
Engineered to ensure maximum productivity with minimum engineer time commitment;
Rule creation, component placement, routing patterns and post-processing capabilities greatly reduce design time.
Cost: Free trial; contact for quote
PADS PCB Design Software from Mentor Graphics is a powerful PCB tool for electronics engineers to easily design printed circuit boards. PADS allows for powerful rule hierarchies, powerful interactive routing, and advanced capabilities such as physical design reuse.
Features:
Built-in DFF;
Automatic routing;
high-speed interactive routing;
3D visualization and placement;
Simple, effective interactive routing;
Easily create split planes and copper areas;
Advanced features to speed up the layout of most complex designs.
Cost: Free trial of PADS Standard Plus; contact for quote
Cadence is a leading global EDA and semiEDA company dedicated to innovation in electronic design and plays an important role in the creation of ICs and electronic products. When electronics engineers need more predictable, shorter design cycles, they turn to Cadence's Allegro PCB Designer.
Features:
Comprehensive design interlayer inspection techniques to minimize design, inspection, and redesign iterations;
Dynamic concurrent team design capabilities reduce product creation time;
Utilize material inlay manufacturing technology to reduce material cost;
Embedded Sigrity technology ensures critical signals meet performance standards and power integrity;
Can effectively solve the problem of power transfer and IR voltage drop.
Cost: Contact for a quote
EDWinXP is an EDA software package or automated design of electronic products, a PCB design and SPICE-based software tool from Visionics. EDWinXP is an integrated PCB design software tool for electronics engineers, covering every stage of the design process, from schematic capture to PCB fabrication and testing.
Features:
Design information can be completely stored in the integrated project;
Accessible through schematic design editor, PCB layout editor, manufacturing output manager and simulator;
Analyze and verify the functionality and behavior of circuits captured in schematic form;
Fully automatic front and back annotation for all design changes;
Includes an extended parts library that can be updated, customized and enhanced through the library editor.
Cost:
EdWinXP 2.10 – Schematic, Commercial:

$450

;
EdWinXP – Standard Edition, Business Edition:

$800

;

EdWinXP – Deluxe Edition, Business Edition:

$1,200

;

EdWinXP – Professional, Commercial:

$3,200

;

EdWinXP 2.10 – Schematic, Small Business License:

$225

;

EdWinXP – Standard, Small Business License:

$800

;

EdWinXP – Deluxe, Small Business License:

$1,200

;

EdWinXP – Professional, Small Business License:

$1,600

;

EdWinXP 2.10 – Schematic, non-commercial:

$45

;

EdWinXP 2.10 – Non-Commercial Standard Edition:

$160

;

EdWinXP 2.10 – Non-Commercial Deluxe Edition:

$240

;

EdWinXP – Professional, non-commercial use:

$320

.
CADSTAR is a well-established PCB design software for small and medium-sized design teams, with many thousands of satisfied users.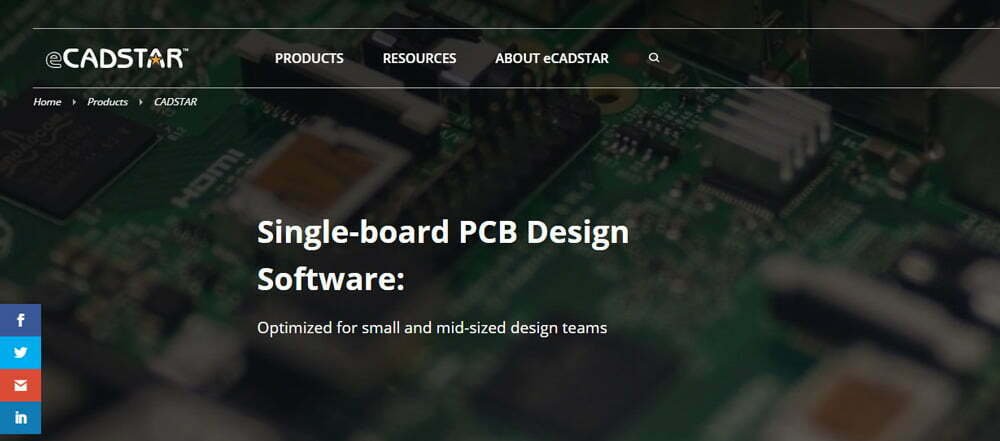 Features:
Design capture for PCBs;
3D PCB visualization and collision checking;
Place and route editors;
High-speed design using length and delay-based routing;
Design Migration;
Cost: Contact for quote
Osmond PCB is a PCB design software tool for electronics engineers using Macs. This PCB design tool provides users with power and flexibility, and removes artificial limitations and restrictions, allowing the design of boards of any size and shape and number of layers required.
Features:
10 nm spatial resolution ensures accuracy;
Place parts anywhere on the board in any orientation;
Run any trajectory along any path and at any angle;
Metric and imperial units are supported even on the same design;
Integrated part editor to easily define new part types or modify existing part types.
Cost:
Free

for small designs with less than 700 pins;
OsmondCocoa 1.1.1:

$79
40. Pantheon PCB Software
Intercept Technology, Inc. is a leading provider of PCB, RF design and layout software. Their Pantheon PCB Layout Software is the ideal PCB design software tool for electronics engineers as it provides an easy-to-use interface and basic to advanced design options that increase productivity and efficiency.
Features:
Advanced PCB layout software with dedicated RF and hybrid design flows;
Suitable for design teams of all sizes;
Scalable, Affordable PCB Layout Solution;
Geometry generation;
Component placement and routing;
Flexible area fill creation and manipulation;
Automatic test point generation;
Split powered aircraft;
Artwork Creation/Verification.
Cost: Contact for a quote
VUTRAAX is the premier professional electronics schematic and PCB design software package from the UK. VUTRAX is supported on Windows, and unsupported Linux versions are available for most x86-based distributions. Electronics engineers choose VUTRAX because of its scalability, integrated schematic capture and always-on true WYSIWYG operation.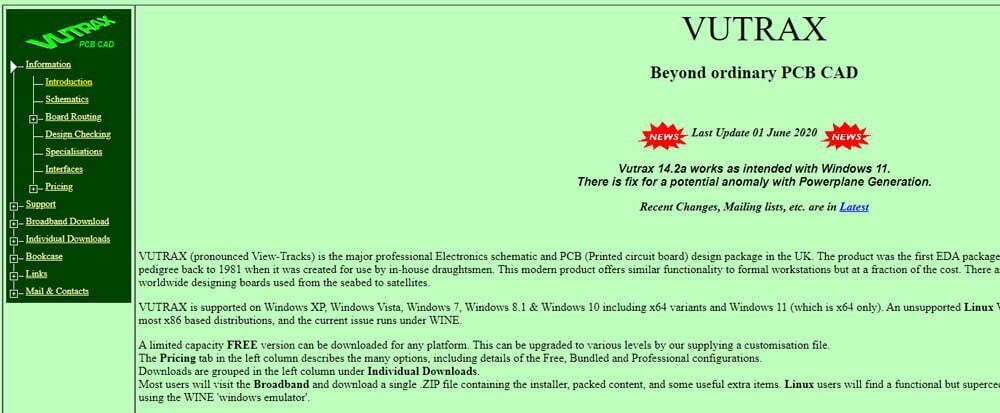 Features:
Bidirectional modification with integrity;
Choose from Ortho, Rip and Retry, and Shape-Based Styles for AutoRouter;
Online and offline design verification;
3D view of PCB with extensive schematic symbols and component footprint libraries;
Design for modern PCB technologies, including surface mount, glue dot, blind and buried vias, microvias, two-sided components, pick and place, and more.
Cost:
VUTRAX Extended Custom:

£4850

;
VUTRAX Standard Custom:

£2048

;

VUTRAX Bureau Bundle:

£2500

.
42. Microstrip Impedance Calculator
EEWeb, the premier electrical engineering community for hardware designers, offers Microstrip Impedance. This handy PCB design tool requires no installation or download as it is a web-based PCB Microstrip Impedance Calculator.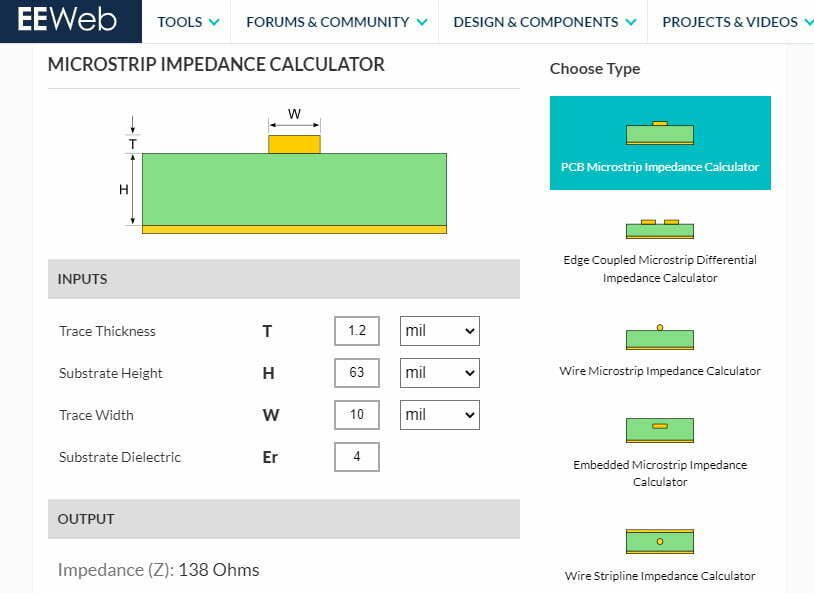 Features:
Get the Structure Right for Your Needs by Understanding Microstrip Transmission Lines;
Designing Microstrip Traces Using Modeling Approximation;
Forumla based on Wheeler equation.
Cost: Free
CIRCAD is a powerful yet easy-to-use PCB design package that includes all the circuit design and fabrication tools the modern electronics engineer needs. CIRCAD includes schematic capture, netlist generation, PCB layout, copper pour, design rule checking, several manufacturing output formats and a library of standard components.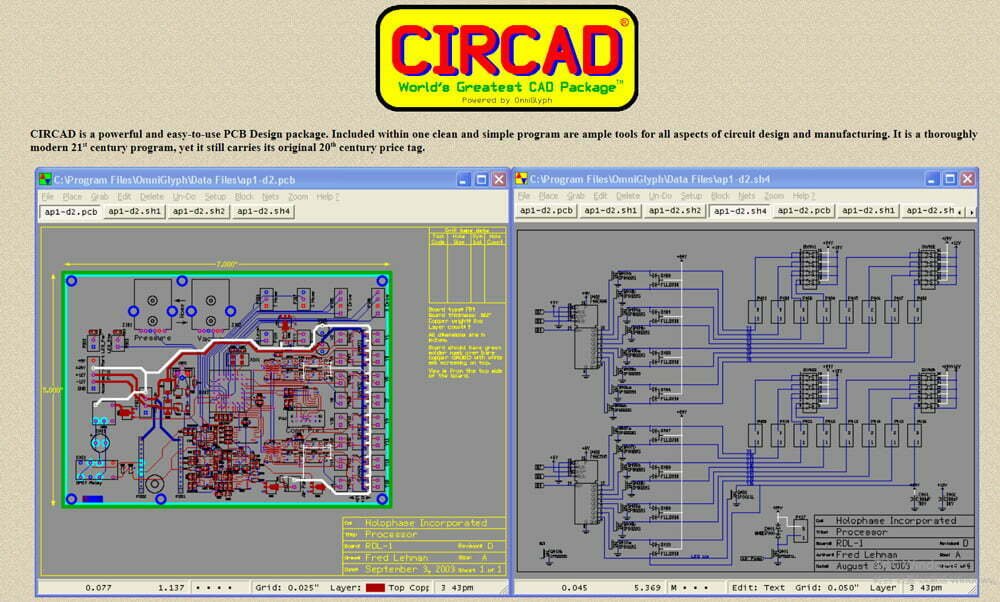 Features:
Easily complete more complex circuits using a set of signal names common to all schematic sheets;
Multiple page schematics generate multiple netlists and merged by the PCB editor;
Manual routing or automatic routing;
Flood restricted areas with separate clearing parameters for each different element type;
The DRC feature enables engineers to verify the correctness of circuit interconnects and ensure adequate clearance between individual components.
Cost:
CIRCAD V6:

$995

CIRCAD V5:

$995

CIRCAD V4:

$695

CIRCAD V3:

$395
There so many PCB design software online. Some of them are free, while anothers cost a lot. Anyway, choosing the the one according to your need is important.