STM32F030 Chip Introduction
The STM32F030 chip is a low-cost, 32-bit ARM Cortex-M0 microcontroller from STMicroelectronics. It features up to 32KB of Flash and 4KB of SRAM, and can run at up to 48MHz. It includes a variety of peripherals, such as analog comparators, timers, and I2C and SPI interfaces. The STM32F030 also supports motor control applications, and it has a wide range of integrated analog and digital peripherals. The chip's small size and low power consumption make it ideal for use in a variety of applications, from consumer electronics to medical and industrial systems. The chip's price and performance make the STM32F030 a great choice for cost-conscious developers. With support for a variety of development tools, including STM32Cube and the STM32CubeMX graphical configuration tool, it's easy to get up and running with the STM32F030 and develop innovative applications.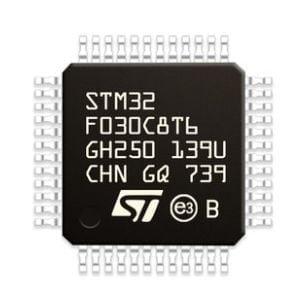 – CPU: ARM Cortex-M0 core with 32-bit RISC architecture
– Operating frequency: up to 48 MHz
– Program memory: up to 32KB Flash
– RAM: up to 4KB
– Clock source: Internal 8MHz or external 32kHz
– Clock output: 2 x 32 kHz
– Digital I/O: Up to 36 I/O pins
– Analog inputs: Up to 8 x 12-bit ADC channels
– Timers: Up to 3 x 16-bit timers
– Communication interfaces: Up to 2 x I2C, 2 x USART, SPI, CAN
STM32F030 Development Board
The development of this STM32F030 microcontroller is based on the latest HAL library of STM32, the initialization code generated by STM32CubeMX, and its compiler is GCC. Below is its schematic, pcb diagram and assembled board.
Reserved SWD interface for debugging by ST-LINK;
The PA4 (DAC output) interface with high port drive capability;
Two light touch buttons and 3 LEDs for easy debugging;
LCD1602 interface and an interface compatible with common TFT LCD;
Use a supercapacitor as an RTC backup power supply;
USB interface with power protection;
Multiple power supply test points for oscilloscope or multimeter.